Tech round-up: What have Suzuki found in pre-season?
Ahead of the Qatar GP, have a delve into what's new on Suzuki's 2022 GSX-RR – and why it's taken a step forward from 2021
While 2021 didn't go according to plan, Team Suzuki Ecstar were still in and amongst the competition. 2020 World Champion Joan Mir bagged six podiums. And that's a large part of the reason why Suzuki come into 2022 with a motorcycle that looks pretty much identical to last year. But don't let that fool you…
What's new?
– Engine
– Chassis updates
– Big electronic changes
– Swingarm
– Aero updates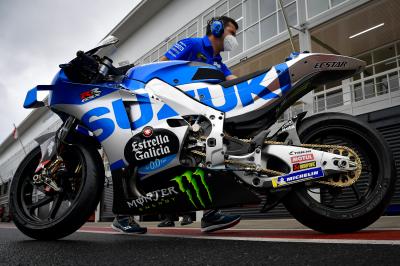 The 2022 GSX-RR really does look like it's taken a leap forward compared to last year and without a doubt, its biggest new addition is the engine. A component the Hamamatsu factory – like Yamaha – have been desperately trying to squeeze more horsepower out of. It seems Suzuki have done exactly that. The search for more power has been successful because, looking at the speed trap classifications in pre-season testing, Suzuki's inline-four are now rivalling some of the V4s.
While Suzuki went on a power hunt, they also needed to maintain the rideability of their engine. Being careful not to take away its user-friendly characteristics is key, as all that new power they had found would then virtually be rendered useless. As they developed the new engine and the riders tried each variation, we consistently heard that they were aware that now they needed to work on the electronics side to get the most out of the additional power. And it's this talk of electronics that has been a feature of Suzuki debriefs for quite some time, with the riders often looking to this area to find improvements.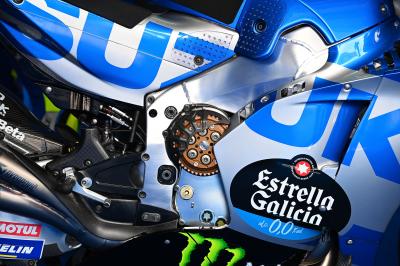 What we know about Suzuki's GSX-RR is that it has great turning characteristics. But it's down on power compared to the V4s, so Suzuki riders have to work hard through and coming out of the corner in order to not lose too much ground on the straight, all of which leads to increased tyre wear. So, delving further into the electronics, to help them in this area, means they can turn their corner speed back from being a disadvantage and into an advantage again.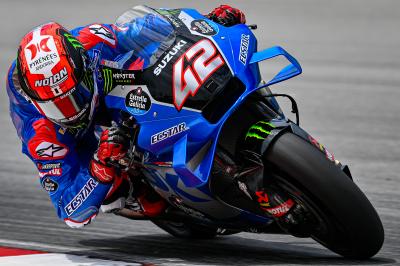 Suzuki also tried some aero updates at the pre-season tests, but from what we could tell, it does appear that their aero won't change when we arrive in Qatar for Round 1. For reference, here's Suzuki's current aero package and the one we expect to see on the bike at the Lusail International Circuit.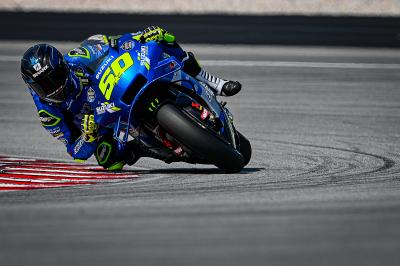 Here's the first new aero that we spotted. Notice how the top and bottom elements are spaced closer together and that the top element attaches to the front fairing a little further down. Also, if you look to the wing on the right hand side (left hand side of the bike) you'll see it has a little kicked edge coming off the back of it. This aero is actually very similar to the top set of wings on the original 2019 aero package that Honda had that year.
However, it does appear that feedback from this aero package was negative as we only spotted it out on track a handful of times in Sepang and at the Mandalika Test, it wasn't seen at all.
Here's the second and final new aero package from Suzuki. With this one, the differences are more obvious to see.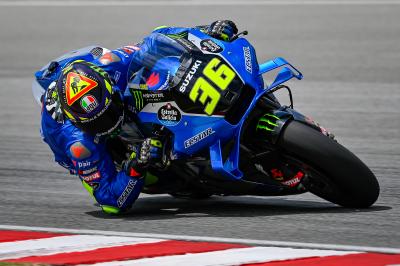 Again, it appears as though the top element attaches further down on the front fairing and now it's clear to see that the droop at the edge of each wing is different from anything we'd seen before. What exactly this drooped section was aiming to do we'll leave to the aero experts…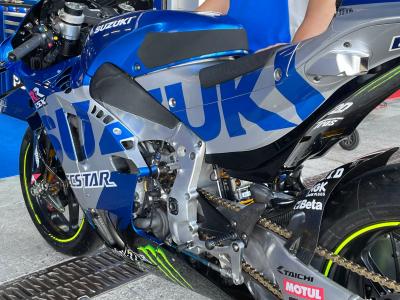 Suzuki had some chassis updates at the pre-season tests and this was one of them. We have seen this chassis before, it's the same carbon-bonded chassis that was first seen in Misano last year. But Suzuki also had some other updates. However, they were impossible to spot from the outside as they were either on the inside of the chassis or covered by the fairings.
Looking at Suzuki as a whole, we think they'll have some teams worried. They may only have two bikes on the grid but they're bound to make an impact in 2022. Both Mir and Rins were very strong in pre-season testing, showing both much-improved one lap pace and the same strong race pace from Suzuki that we're accustomed to seeing.
With the added horsepower and continuous work to find ways to maximise their strengths and limit their weaknesses through electronics setup, Suzuki's 2022 bike might turn out to be the sharpened tool they hoped it would be for 2021. Keep your eyes on the light blue corner of MotoGP™, as Suzuki are looking to make a splash in 2022 – just as they did in 2020.
VideoPass allows you to watch every single second of every single sector LIVE and OnDemand. VideoPass offers you unrivalled access to interviews and features as well as every competitive lap at every Grand Prix. VideoPass is also available on the MotoGP™ app for iOS and Android, while you can also watch LIVE or OnDemand content with Roku TV, Apple TV, Android TV or Amazon Fire TV.More than 45,000 videos dating back to 1992, with a comprehensive back catalogue of MotoGP™ coverage including full races, interviews, summaries, reports and documentaries, are at your disposal – when you want, where you want. Different camera feeds and OnBoards allow you to choose your preferred viewing experience, and to enjoy the race from so many angles. SIGN UP NOW!