The state of play after round two of the 2020 Global Series
There was a lot to digest after the second round of the eSports season, so we recap what's happened as the action gets ready to resume
Now it's getting serious. The third round of the 2020 MotoGP™ eSport Championship starts this Friday 30th October and offers ten of the eleven finalists the chance to reel in this season's runaway leader as the pressure intensifies!
But with established names trastevere73 and AndrewZH lagging some way behind in the standings and some new names up front, it's worth reminding ourselves of the happenings in a dramatic round two.
Support for this video player will be discontinued soon.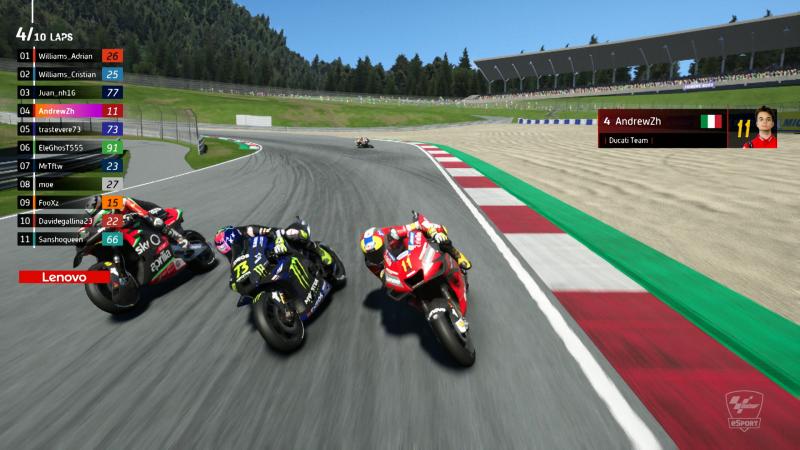 Highlights: MotoGP™ eSport Global Series 2 03/10/2020
There was no stopping the Montenegro brothers – Williams_Adrian and Williams_Cristian – as they shared the race wins while championship favourites trastevere73 and AndrewZH suffered difficult results, especially in race two.
The eleven finalists took on Austria's Red Bull Ring and Malaysia's Sepang International Circuit for the two races, and Williams_Adrian once again showed that in current form he remains the strongest contender in 2020.
The first race was a continuation of what we saw at round one: Red Bull KTM's Williams_Adrian backed up his pole position with an incredible showing of precision and concentration to secure another lights-to-flag victory. The Spaniard didn't make one clear mistake despite pressure from his brother Williams_Cristian, Ecstar Suzuki's entry, throughout the 10 laps. Red Bull KTM Tech 3's Juan_nh16 was an excellent third, with the podium finishers covered by just 1.3s.
Race two was dramatic from the very start. First AndrewZH crashed when he touched the rear tyre of Juan_nh16 through the turn one hairpin. Incredibly trastevere73 then fell when attempting to pass Juan_nh16 five corners later, ensuring both of the former champions have serious work to do in the championship fight.
All the while, Williams_Cristian and Williams_Adrian were setting the pace at the front once again. While Williams_Adrian kept him honest throughout, Williams_Cristian took his first victory of season by 2.040s. Once again Juan_nh16 fought through from a bad qualifying to finish third. trastevere73 fought back to finish fifth while AndrewZH was a disappointing eighth.
Those results mean Williams_Adrian carries a 29-point lead into round three with Williams_Cristian gaining some momentum from his second and first place. trastevere sits third overall, albeit 34 points behind. Juan_nh16's two podiums lifted him to fourth, 40 points back while AndrewZH has a mountain to climb if he wishes to retain his crown as he sits 51 points back in fifth.
Due to the restrictions placed on the MotoGP™ paddock during the global pandemic, eSport races can no longer be held on site. Finalists will be competing from home on Friday 30th October at 16:00 (GMT+1). As ever, they'll be race with the new official MotoGP™20 Videogame from videogame developer, publisher and longstanding partner Milestone – which is available to buy now – with both race direction and the event powered by Lenovo PCs.
The eleven finalists will race the Misano World Circuit Marco Simoncelli on the Italian Riviera in the first encounter and Australia's awesome Phillip Island, the jewel in the MotoGP™ calendar for the second. Both will be held over ten laps.
Round 3 of 2020 will be broadcast live on MotoGP™ eSport YouTube, Facebook, Twitter and Instagram, on MotoGP™ social channels, esport.motogp.com, motogp.com and selected TV broadcast partners.
Can anyone put an end to Williams_Adrian's dominance? Tune in at 16:00 (GMT+1) on Friday 30th October to find out!
Every practice session, qualifying battle and race, exclusive interviews, historic races and so much more fantastic content: this is 
VideoPass
!