"Those minutes of pure joy repaid months of hard work"
Raffaella Pasquino talks about her 20-year career at Yamaha and how she contributed to Fabio Quartararo realising his dream
Amsterdam welcomed Raffaella in 2001 when, after finishing her degree in television journalism in Florida, she returned to Europe in search of a job among the many newspaper advertisements. She read what the market had to offer in the hope of finding something that would allow her to work in television documentary production and continue the path she had started in America.
Among the many offers, there was one from Yamaha Motor Racing for an assistant to the Managing Director, requiring someone who could speak Italian and Spanish, as well as English. Although she knew she would be the ideal candidate, Raffaella continued her search as she did not know much about the world of motorbikes. Two weeks later, the same ad appeared again among her searches, so she decided to apply: "I called the agency in charge of the ad, but it was too late," says Raffaella, who, despite the first refusal, insisted.
"They told me they already had many candidates, so I asked how many of them spoke Italian and Spanish, since they were two uncommon languages in Holland. The answer was: "None". I pointed out that in addition to the other requirements, I knew the required languages and this was a good reason to add my CV. They accepted my application and eventually hired me. It was fate."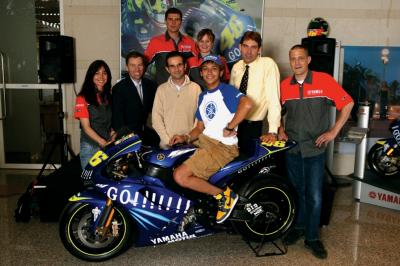 So Raffaella started working at Yamaha as Lin Jarvis' assistant, in addition to other projects managed by the manager, who was in charge of Yamaha Motor Racing's Motocross and Superbike Championships. "It was like that for the next four years, then the MotoGP™ programme was moved to Italy and I was offered the opportunity to change departments and focus more on the product side of Yamaha Motor Europe.
When she left the world of racing, Raffaella got to know another aspect of the two-wheeled world: "I used to organise events and press presentations for new models, so I was able to travel around the world discovering more and more how much passion, fun and adrenalin move this environment. I was so passionate about it that while I was working on organising an event with the SuperTénéré from Paris to Marrakech, I decided to get my motorbike licence. It was something I would never have thought of doing only a few years earlier and it shocked my family."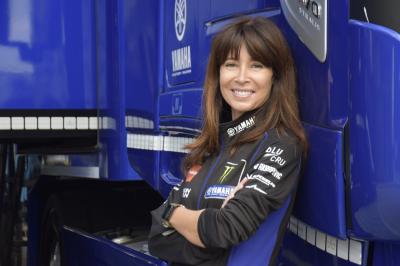 Between flights, train journeys and organising an event, Raffaella's diary was about to be rescheduled once again: "In 2012 the possibility of returning to MotoGP presented itself. It seemed perfect because I had always wanted an active life and this job would allow me to combine my experience in the marketing and events world with top-level motorbike racing. So, after applying for the vacancy in the team, in 2013 I returned to the paddock as Marketing Coordinator for the Yamaha Factory Racing Team."
In a short time the paddock had transformed and Raffaella couldn't help but notice the change: "In eight years the sport has grown so much, it's continuing to change, and I'm pleased to note that there are more and more female professionals. For example, when I came back in 2013 I was the only woman in the communication and marketing group, but now there are four women and two men," she says. "In the early days when I was in the paddock there were so few of us in each team that our uniforms were the same as the men's, so we had to make do with wearing the smallest size available and, despite this, we always had too big shirts. Managing the team's clothing is one of my jobs and it was satisfying to introduce the women's line because we were now enough women to have a uniform that suited us. These are subtleties but they show how things have changed and personally I am very pleased to see that there are more and more girls in technical jobs because two decades ago it was unthinkable."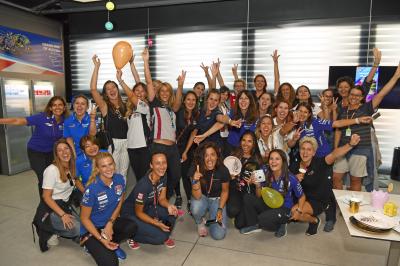 Raffaella is personally committed to continuing Yamaha's tradition of 'Ladies aperifits', an annual event in which the various female professionals involved in the paddock have the opportunity to spend time together at Yamaha's hospitality: "At the beginning there were about thirty of us, but over time we have become many more and we are involved in different roles. We hope to be able to organise them again once the pandemic is over."
In 2021, Quartararo won the title and Raffaella reveals how she enjoyed this season: "It started with podiums and victories but only after the summer break we started to think concretely about a possible world championship victory. Starting from mid-September, together with Maider Barthe, Fabio's press officer, Thomas Maubant, his assistant and the Dorna staff, who have been fantastic in providing us with great support for the organisation of the celebration, we set to work."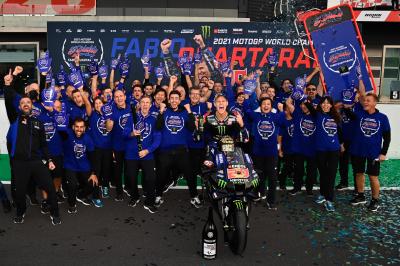 At the second round at the Misano World Circuit Marco Simoncelli, the Emilia-Romagna GP, Quartararo played had his first. After a difficult qualifying session, the Frenchman's hopes of securing the title at that event were slim: "I remember that when the race was about to end we were already resigned and ready to try again at Portimao. Then Bagnaia crashed, I looked at my colleague Maider and we realised we had won! It was a hurricane of emotions. The happiness, the disbelief at the victory and the rush of having to prepare all the materials for the celebration. It was great to see his parents and brother dissolve into tears and then the happiness in Fabio's eyes. Those minutes of pure joy repaid months of hard work."
Dedicated to marketing, Raffaella is involved in numerous activities related to sponsorship projects and the coordination of the team's marcom operations. After almost twenty years of discovering the world and constantly coming up with new things, Raffaella has set herself another exciting challenge for 2020: "When we welcome guests during the Grand Prix, part of my job is to take them to the pit and explain what the team does on a race weekend. I do these visits in English, Italian, French and Spanish, but now the new goal is to learn more Japanese so that I can communicate with the guests at the Motegi race in 2022.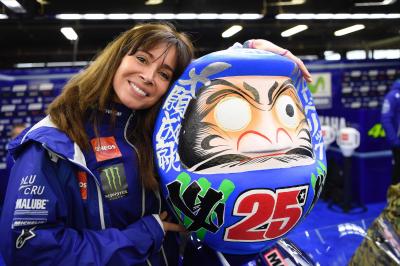 Two decades ago Raffaella was determined to produce documentaries and found herself experiencing first-hand indelible moments of the sport: "I am very proud and lucky for what I have done. During these years I have had a lot of fun, met spectacular people and experienced unique moments. I spent eight seasons with Valentino Rossi and I was there on the day of his last race, I won the world title with Jorge Lorenzo and Fabio Quartararo, these are experiences that make me feel privileged. I am happy to have found that ad and to have insisted with the agency on that fateful day that marked my professional life."
Still feeling the euphoria of Quartararo's title victory, Raffaella welcomes the winter break for a few weeks, before getting back into the swing of things with preparations for the 2022 World Championship.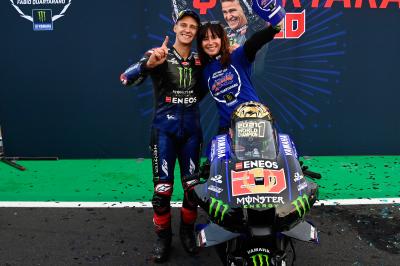 Every practice session, qualifying battle and race, exclusive interviews, historic races and so much more fantastic content: this is
VideoPass!
Segui tutte le sessioni, guarda le interviste esclusive, le gare storiche e tanti altri fantastici contenuti: tutto col 
VideoPass!