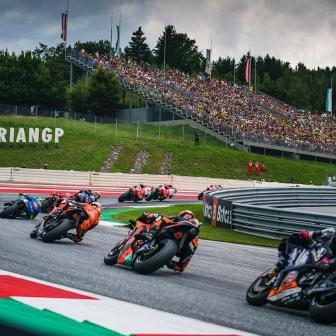 Time schedule: CryptoDATA Austrian Grand Prix
We're back to a more familiar schedule this weekend as MotoE™ joins the fray at the Red Bull Ring
The next instalment of MotoGP™ action takes us to the Red Bull Ring for the CryptoDATA Motorrad Grand Prix von Österreich, where the FIM Enel MotoE™ World Cup paddock re-enters the fray for their penultimate round of the season.
Friday's track action kicks off with MotoE™ FP1 at 08:25 local time (GMT+2) before Moto3™ FP1 gets going at 09:00 for the first televised session of the weekend. MotoGP™'s first session is at the usual 09:55, while MotoE™ qualifying begins at 16:50 after the FP2 stints.
Saturday morning's FP3s follow the same pattern as Friday morning minus MotoE™, who have their first of two races at 16:25. Before that, the Moto3™ (12:35), MotoGP™ (14:10) and Moto2™ (15:10) grids will be set.
Then it's race day. Moto3™ (11:00) and Moto2™ (12:20) are first on the agenda before the main event takes place at 14:00 – the MotoGP™ race. The second MotoE™ race of the weekend then goes ahead at 15:30 to close out the weekend.