Viñales: Yamaha "throwing away" title chance
The Spaniard reacts to his European GP pitlane start penalty, saying mistakes by the Iwata factory are costing him a shot at the title
On Saturday at the Gran Premio de Europa, it was confirmed that Yamaha have been forced to exceed Maverick Viñales' (Monster Energy Yamaha MotoGP) 2020 engine allocation and unseal a sixth motor for the MotoGP™ title contender, seeing him being handed a pitlane start for Sunday's race.
Since Jerez, Viñales has been running the final two engines in his allocation and ever since the San Marino GP, the Spaniard has been exclusively lapping with said engines. And after the news broke on Thursday that Yamaha Motor Company, Monster Energy Yamaha MotoGP and Petronas Yamaha SRT were given points deductions, the weekend goes from bad to worse for Viñales' camp.
"The problem is that in Jerez they understood the problem after we close the third engine," began Viñales in his Friday debrief. "Because if not I would still have had four engines, one more, our problem was to put a new engine for the first race. From Aragon I'm running out of engines, so we were managing the best we can and in the second race I only had one engine with a lot of mileage.
"We've done the whole season with two engines, we've managed the best we can. It was not safe to ride with the other engine, because maybe I can create oil in the track, so we decided to put a new engine, for safety first, and then, I have a fresh engine, doesn't matter because finally the speed is the same. We will see. Our problem is not that. The problem is that we are not on the level, I don't know why but from Misano we lost everything and we can't find grip. It's very difficult to ride the bike."
So when did Viñales find out that this was going to happen? "Yesterday we were discussing if to risk ourselves going with the fifth engine, doing only a few laps in free practice. But for me it's too risky. If you were first, with 20 points you can do it. The thing is that we don't have the setting, the bike is not working and then we have to face it with an old engine. It's true that I need to start from the pitlane but I can't do anything, that's it. The title is much more difficult but anything can happen."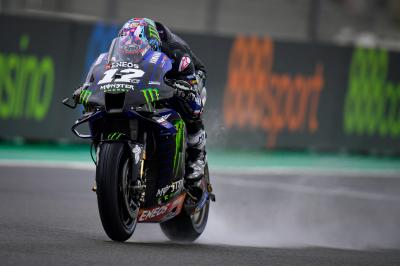 Aforementioned, Viñales' penalty comes a day after Yamaha were given three separate points deductions in the Constructor and Team Championships. Viñales was asked if he knew from the beginning that Yamaha had broken the rules with the engine openings.
"I didn't know all of this. Until the last moment I didn't know anything, so… Yamaha didn't want to disturb the riders and create any confusion in the team so I didn't know. I think they managed the best way they can. We will try to do a good job. For sure is not the best weekend in my life, but it is how it is. Maybe it will rain and I can do an epic race."
An epic race is certainly needed from the man currently third in the title race. However, and understandably, the number 12 was dejected as another potential MotoGP™ World Championship title starts to slip from his grasp.
"You can imagine the feeling I have, every year throwing away the opportunity to win the title with mistakes… My feeling is very bad. I had a perfect situation at home, I have a perfect life, I don't want to be angry, I want to be happy. So if I don't have the chance this year I will have the next one, I still have two more years with Yamaha and we can do something great. We will see if in this race we can take out something very positive.
"Maybe I have a special race with a special feeling, I don't put any limit in myself. Our contenders can make mistakes, it can rain, there can be a red flag… I don't want to lose the motivation. We are upset, for sure, because we are not riding in the same conditions than the others, but this is our problem. The only problem is that is difficult to overtake with this bike."
Overtaking is something that Viñales will have to do if he's to score points on Sunday afternoon. It's by no means over for the Yamaha star, but things have become all that more difficult in Valencia. 2020 has thrown up surprise after surprise though, so don't count out Viñales just yet.
Every practice session, qualifying battle and race, exclusive interviews, historic races and so much more fantastic content: this is
VideoPass!