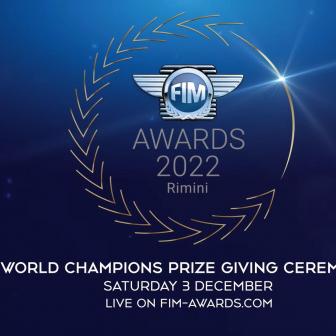 Watch the FIM Awards live on the 3rd December!
Rimini hosts this year's FIM Awards as we get set to celebrate the Champions of 2022
This weekend on the 3rd of December, the annual FIM Awards will take place and this year, the event is heading to the magnificent Palacongressi – IEG Expo in Rimini, a region that goes hand in hand with motorcycle racing.
The whole FIM family will be in attendance to celebrate the Champions of 2022, with fans also able to attend the event again this year. In addition, more than a hundred representatives will meet on the 2nd of December to discuss and vote on several important issues – including the election of the FIM President.
This year's programme also includes additional activities, one being a panel discussion about "The future: Sustainability and Motorcycling". That takes place on Tuesday the 29th of November at the Ducati Museum in Bologna.
As well as celebrating the title winners from the motorcycle racing classes, the FIM Awards will also highlight the following: the Women in Motorcycle Trophy, the FIM Environmental Trophy, the FIM Family Trophy, the FIM Trophy for The Future, the FIM Road Safety Trophy and FIM Touring World Challenge.