"We need more time" – Puig talks HRC's troubles
Get the thoughts of the Repsol Honda team boss after another frustrating weekend for his team
Repsol Honda and LCR Honda had to endure yet another difficult weekend at the French Grand Prix as they continue to struggle with the new RC213V. The top Honda across the line was Marc Marquez in sixth place, with LCR Honda Idemitsu's Takaaki Nakagami the only other Honda inside the top ten in seventh, leading team boss Alberto Puig to admit HRC "are facing some troubles".
It's easy to see why he's saying that as well because since returning to Europe, although Marquez has collected some decent points with two sixth place finishes and a fourth in Jerez, he's failed to finish within ten seconds of the eventual race winner. 16 seconds in Portimao, 12 seconds in Jerez and 15 seconds in Le Mans do not make pretty reading for a factory that had high hopes of reclaiming their former glory in 2022.
"It clearly was not the result we were expecting or what we are aiming for," started Alberto Puig when asked to reflect on the seventh round of 2022. "Of course, we aspire to achieve the maximum that is possible – this is always our target. But the reality is that we are facing some troubles. We are still searching for how we can achieve our true potential. This weekend in Le Mans was again not an easy one.
var videoContainer; var modeAnalytics = false; var mode="demand"; var nid="421294"; var livetest= true; var lang = "en"; var messageToWatch = ""; var extendedMode = true; var optionSelected = "0";; var youboraActive = true; var analyticsDBIActive = "true"; var optionMeta="hdn"; var dornaAccount = "dorna"; var broadcaster = "0"; var claims_url = ""; var noRegister = ""; var subscribe = ""; var urlMeta = "";
// var externalbalancing = true; //get value from perms
window['flashvars_421294'] = multilive_url : '', broadcaster : broadcaster, optionMeta : optionMeta, baseURL : base_url + "/", secureURL : "https://secure.motogp.com" + "/", to : "", streamType : mode, uid : uid, nid : nid, optionSelected : optionSelected, url_claims : "", href_claims : location.href, referer : location.href, preroll : "", lang : lang, youboraActive : youboraActive, analyticsDBIActive : analyticsDBIActive, dornaAccount : dornaAccount, autoplay : false, alternative : false, skinName : 'motogp' ;
var params = menu: "false", wmode:"opaque", allowfullscreen: "true", bgcolor: "#000", allowscriptaccess: "always" ;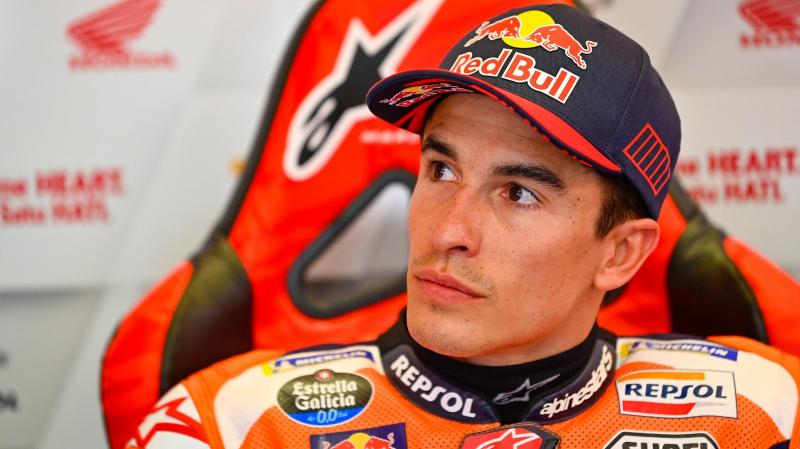 What held Marquez back from a podium push in France? 15/05/2022
"In terms of results, it's not what he expects as well. Of course, this race was not a complete disaster. But we have to look at the overall situation and this is not our true position and clearly not Marc's position.
"We know where we have to improve. We need more time to test what we believe can help us to fix the problems we are having, for now we must keep working and waiting for these solutions to arrive for Europe as soon as possible.
"I think the only positive point is that we are not happy. This is very positive because in terms of racing, when things are going wrong and something is not as you expected – it's very easy to lose your motivation but this is not our mentality. We are going to fight back, to improve and get back to achieving the results we aim for."