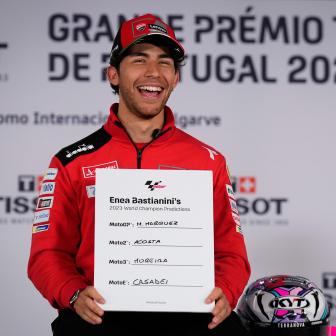 What you might have missed from Thursday in Portimao
Francesco Bagnaia talks of continued Ducati improvement, whilst Fabio Quartararo and Marc Marquez outline what they need to do to catch up!
It was a hectic Thursday at the Grande Prémio TISSOT de Portugal as the riders and teams started preparation for an action-packed season opener at the rollercoaster Portimao Circuit. The title contenders shared their thoughts ahead of the 2023 MotoGP™ season and the all-new MotoGP™ opening titles were unveiled ahead of a new era for MotoGP™.
If you missed any of the action ahead from today's build-up to the 2023 season, then don't worry – we've compiled some of the main topics right here:
The riders are ready, and so are we as a historic 2023 season is all set for the first lights out of the year at the Portuguese GP!
Check out our top tips for MotoGP™ Fantasy 2023 season opener!
The relationship between the factory Ducati duo is one of the storylines of the season as both seem destined do battle for the 2023 title.
The 2021 World Champion is hopeful the M1 can take another major step forward to compete with the Ducatis
The sole Portuguese rider is hoping to give home fans plenty to cheer about as he prepares for his Aprilia debut in Portimao.
The current Champion discussed the pressures of defending his title and hopes to follow in the footsteps of Valentino Rossi and Marc Marquez.
Offering updates on the Kalex chassis, swingarm and 2023 engine, the Honda ace believes improvements can be found elsewhere for the RC213V
Riders admit the new format will certainly pose tactical headaches across a weekend, but one they welcome as the sport embraces innovation
Go inside a MotoGP™ garage and witness exactly what happens during the most frantic part of a Grand Prix weekend.