What's new for Moto3™ in 2023?
From returning record holders to exciting rookie riders, there is plenty to keep an eye on in the lightweight class ahead of the new season
The 2023 Moto3™ season is fast approaching and anticipation is building as fans gear up for another exciting year of racing in the lightweight class. With a host of talented young riders set to make their debut on the grid, as well as a number of notable changes and shifts within teams, this season promises to be one of the most thrilling yet. Here's a look at what we know so far about the upcoming 2023 Moto3™ season.
A number of talented young riders are set to make their debut on the grid with Niccolo Farioli, who has shown impressive potential during his time in the Red Bull Rookies Cup, joining the Red Bull KTM Tech3 team. David Salvador, who had to unfortunately drop out from the 2022 season, will also be making his full-time debut, joining the CIP Green Power team.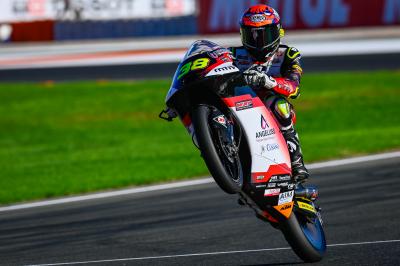 Romano Fenati, who holds the record for most wins in the class, drops down to Moto3™ after securing a ride with the Rivacold Snipers Team. Syarifuddin Azman, who finished fourth in the 2022 FIM JuniorGP World Championship, will be joining the MT Helmets – MSI team. Colombian rider David Alonso, who made one-off appearances in the 2021 and 2022 seasons, will be making his full-time debut in the Moto3™ class with the GASGAS Aspar Team.
Collin Veijer, the 2022 Red Bull Rookies Cup runner-up, has signed up with the Liqui Moly Husqvarna Intact GP team while reigning Red Bull Rookies Cup Champion Jose Antonio Rueda will be one to watch this season as he joins Aki Ajo's Red Bull KTM squad. These young talents bring a wealth of potential and promise to the Moto3™ class, and it will be exciting to see how they fare against the more experienced riders on the grid.
As always, there were plenty of musical chairs happening during the winter break, as established names sought out a change of scenery.  One of the bigger off-season switches sees Turkish rider Deniz Öncü move to Red Bull KTM Ajo after three years with the Red Bull KTM Tech3 team, while Dani Holgado moves in the opposite direction. Jaume Masia also leaves Aki Ajo's team, opting for a return to Leopard Racing after two seasons away.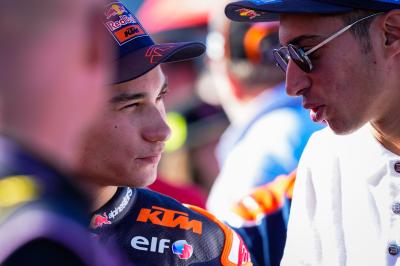 Ryusei Yamanaka will be hoping to fill the sizeable leathers of last year's Champion Izan Guevara at GASGAS Aspar Team. Matteo Bertelle switches to Rivacold Snipers Team, while Lorenzo Fellon and Kaito Toba trade places at CIP Green Power and SIC58 Squadra Corse respectively. Joel Kelso also moves away from CIP Green Power after his rookie season, and the Australian will link up with Xavi Artigas at CFMoto Racing Pruestel.
Another notable change on the grid is title contender Ayumu Sasaki will now ride under Liqui Moly Husqvarna Intact GP banner, a change from Max racing following the departure of Max Biaggi's team from Moto3™.
These changes bring a new dynamic to the grid and it will make for an intriguing watch to see how these riders adapt to their new surroundings. The upcoming campaign is shaping up to be one of the most thrilling yet. With a host of talented riders looking to make their mark on the grid, the competition is sure to be fierce.
Jaume Masia's return to Leopard Racing comes with the goal of claiming the title. Diogo Moreira, who made a huge impression in his rookie campaign, will be looking to build on his success and could make a run for the Championship. Tatsuki Suzuki will be aiming to make his experience count and establish himself as a top contender in the lightweight class.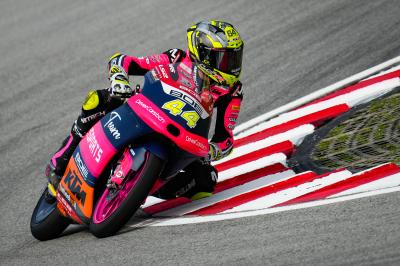 Another rider to watch out for is David Muñoz, who will be making his full-season debut after shaking things up on track in 2022. Deniz Öncü will be hunting down a breakthrough victory in Aki Ajo's team and lead a title fight. Romano Fenati hopes to rediscover his winning touch while last year's fourth place finisher, Ayumu Sasaki, will be aiming to build on an encouraging year and challenge for Championship glory.
As always, the Moto3™ class is known to produce rookie sensations, and this year could be no different. With a talented field of riders, it's set to be an unforgettable season filled with nail-biting battles and potential new stars emerging in the lightweight class.