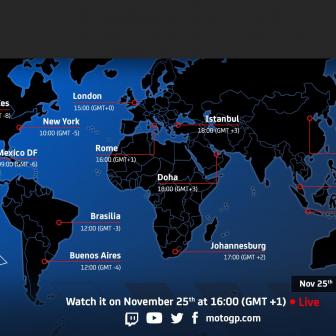 Where to watch Friday's MotoGP™ eSport finale
Join Jack Appleyard & Jack Gorst across a wide range of platforms for the action-packed finale of the 2022 MotoGP™ eSport Global Series
The fifth and final round of the expanded Global Series will be contested on November 25th at 16.00 (GMT +1). As it stands after four rounds and eight races, 23 points cover five names with 100 on offer in Friday's season finale!
Twelve finalists have been chosen by the MotoGP™ teams as their competitors in the Global Series, expanded to five rounds and ten races for 2022. The twelve hopefuls hail from all around the world, and make up arguably the strongest Global Series line-up yet.
The race to become MotoGP™ eSport Champion couldn't be tighter – just 23 points cover the first five riders in the standings with 2020 Champ Adriaan_26  (Repsol Honda Team) leading the way by 12.5 points, with last year's winner Trast73 (Monster Energy Yamaha) second. But former champion AndreaSaveri11 (Ecstar Suzuki), Cristianmm17 (LCR Honda), and PieroRicciuti55 are all still in the mix, sitting 13, 17 and 23 points back of the leader respectively.
After the year opened with an on-site event at the Italian GP, rounds two, three and four and five of the Global Series will be Virtual Rounds. As has become tradition in recent years, there are double points available in the final two races, meaning the winner of a race will score 50 points, the runner-up 40, with third place scoring 32 and so on.
The action-packed show that includes the ninth and tenth races of this year's series gets underway on Friday November 25th at 16.00 (GMT +1) with Jack Appleyard and Jack Gorst hosting and providing the commentary.
The two tracks disputed played host to classic MotoGP™ encounters this year: Race 1 comes from the Termas de Rio Hondo Circuit, the home of the Argentine Grand Prix while Race 2 will be held at the stunning Mandalika International Street Circuit, the home of the Indonesian Grand Prix.
Who will hold their nerve to take the MotoGP™ eSport crown? Don't miss the live broadcast on Friday November 25th at 16.00 (GMT +1) as the battle to become the 2022 MotoGP™ eSport Champion will be decided!