Where you can watch Friday's Global Series Round 4
Join Jack Appleyard and Jack Gorst across a wide range of platforms for the fourth round of the 2022 MotoGP™ eSport Global Series
The Global Series has already delivered its fair share of excitement in three rounds and six races in. Now the fourth of five rounds is coming up, with two all-important races on Friday September 23rd at 12.00 (GMT +9).
Twelve finalists have been chosen by the MotoGP™ teams as their competitors in the Global Series, expanded to five rounds and ten races for 2022. The twelve hopefuls hail from all around the world, and make up arguably the strongest Global Series line-up yet.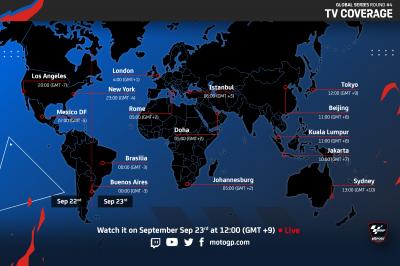 After the year opened with an on-site event at the Italian GP, rounds two, three and four of the Global Series rounds will be Virtual Rounds. In another change for this year, there will be a different points-scoring system for these Virtual Rounds. The winner of a race will score 12.5 points, the runner up 10, with third place scoring 8, and so on.
Thursday's two qualifying sessions are available across all social media channels. Make sure you are subscribed by clicking on the links below!
The action-packed show that includes the seventh and eighth races of this year's series gets underway on Friday, September 23rd at 12.00 (GMT +9) with Jack Appleyard and Jack Gorst hosting and providing the commentary.
The first three rounds of 2022 have again shown that this year's series is set to go all the way. the first three rounds of 2022 have once again shown that this year's series is set to go all the way. The race to become MotoGP™ eSport Champion couldn't be tighter – just 12.5 points cover the first four riders in the standings with reigning champ Trast73 (Monster Energy Yamaha) leading the way. But former champions AndreaSaveri11 (Ecstar Suzuki) and Adriaan_26  (Repsol Honda Team) and are right in the mix, as is Cristianmm17 (LCR Honda), the primary beneficiary of round three.
The two tracks disputed are ones that the MotoGP™ field are currently undertaking: Race 1 comes from the Chang International Circuit, the home of the Thai Grand Prix while Race 2 will be held at the prestigious Mobility Resort Motegi, the scene of the Japanese Grand Prix.