WithU Yamaha RNF Team reveal 2022 colours
Andrea Dovizioso and Darryn Binder were on hand to lift the covers off their new machines as WithU RNF also unveil their MotoE™ bike
There could not have been a more iconic and original stage than the Philharmonic Theater in Verona, where WithU Yamaha RNF MotoGP Racing unveiled the new livery of the Yamaha YZR-M1 for the 2022 MotoGP™ World Championship, but also the one dedicated to MotoE™. The WithU RNF Team is committed in both World Championships in 2022. A real show, accompanied by famous opera arias, sung by the splendid voice of soprano Francesca Dotto and tenor Leonardo Cortellazzi.
A particular as well as exciting and unique atmosphere, which involved the vast virtual audience that followed the streaming on the social media channels of the team. Performing the official welcome, Matteo Ballarin, President of the WithU brand of the Europe Energy Group, strongly wished to held this event in his city, which is the headquarters of the company, he founded and represented. One more reason to celebrate WithU's title sponsorship role in this prestigious team. At his side, on the stage of the Verona Philharmonic Theater, the Founder and Team Principal of WithU Yamaha RNF MotoGP Team Razlan Razali, the Team Manager Wilco Zeelenberg and the Team Manager of WithU GRT RNF MotoE Filippo Conti, alongside the MotoGP™ riders Andrea Dovizioso and Darry Binder together with Niccolo Canepa, who in 2022 will be competing in the Enel FIM MotoE™ World Cup together with Bradley Smith.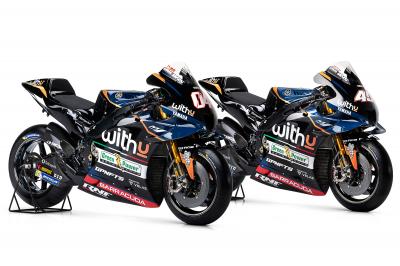 Among others, the red carpet was rolled out for premier class star Andrea Dovizioso. The Italian, three times runner-up in the MotoGP™ and 15-times race winner in the highest category, will enter his 20th full season across all categories of the World Championship, after he already made the switch to Yamaha in five rounds in 2021. Meanwhile, Darryn Binder will be only the second rider in MotoGP history, who dares the formidable jump from Moto3™ to MotoGP™. The 23-year-old South African talent celebrated his first ever victory on world level in Catalunya 2020 and collected five further podiums in the course of his fascinating Moto3™ career.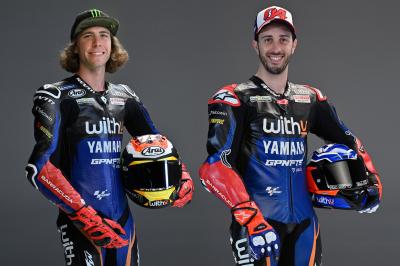 The WithU GRT RNF MotoE team likewise opens up the field to new shores with a two riders line-up composed of Niccolo Canepa and Bradley Smith. The Italian Canepa will venture in his third year of the electric class, following a break in 2021. In the debut and the second season of MotoE, the experienced Genovese ranked well inside the top 10. Alongside Canepa, the famous number 38 will be back in the World Championship. Smith, who's looking back on a long and fruitful MotoGP™ career, already scored four podiums in the opening year of the FIM Enel MotoE™ World Cup and was vice champion by the end of 2019.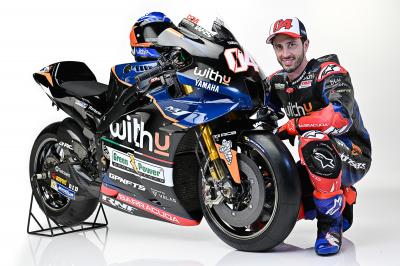 While the curtains of the picturesque Philharmonic theater in Verona have been closed, the stage opens for some action in less than a week's time, where the freshly painted Yamaha YZR-M1 will be on track, piloted by Binder for the three days Shakedown test at the Sepang International Circuit. The premier class rookie will very soon be accompanied by his teammate Dovizioso from 5th to 6th February for the first official pre-season test in 2022 before the floodlights will be perfectly positioned for the first race of the year on 6th March at the Losail International Circuit.
Razlan Razali, Founder and Team Principal WithU Yamaha RNF MotoGP Racing Team: "This presentation in this beautiful backdrop settings of Verona signifies a number of things for the team; firstly, we are rebuilding, rebranding and with the riders, that we have engaged for this year, Andrea Dovizioso and Darryn Binder, the target is to become competitive, surprise everybody and do the best we can in achieving our goals. Secondly, for the first time, WithU is the title partner for a MotoGP team. WithU has been with us since 2019 and we appreciate their continued commitment, Matteo Ballarin's support, trust and confidence in us in this new journey for the next three years.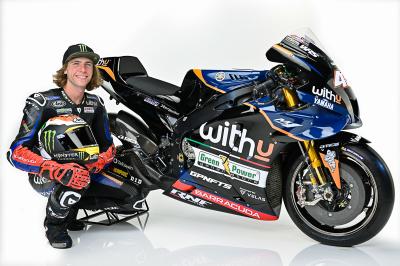 "It's just incredibly fitting for this launch to be held in his home town and beautiful city of Verona in this magnificent Philharmonic Theatre. For me, this is a new experience and also for the team. We appreciate the setting a lot! These for me are the two main things that are important for this unique team presentation, where we also have the pleasure to announce our MotoE line-up with Bradley Smith and Niccolo Canepa and are able at the same time to unveil our FIM Enel MotoE World Cup colours.
"For this 2022 season, we aim to be amongst the best of the Independent Teams at least. We want to fight for the Rookie of the Year, although we know it's a huge challenge with five rookies in 2022 and Darryn being the only one of them to jump from Moto3 to MotoGP. For Andrea, he has a lot to prove coming back after more than six months of sabbatical. He definitely wants to prove not only himself, but everybody, that he still has the motivation, the experience and the drive to fight for the World Championship."
Matteo Ballarin, WithU Brand President: "I am particularly proud to have had the opportunity to present the WithU Yamaha RNF MotoGP Team in Verona, in the city where our company was born and is based, in a unique and prestigious setting such as the Philharmonic theater accompanied with the emotion of the great Italian opera music. Five years after our first approach to the world of MotoGP, today we are more enthusiastic and motivated than ever. This new experience as Title Sponsor represents a milestone for the WithU brand but also a new beginning and a strong stimulus. A great challenge that materializes with an important and effective opportunity to communicate our values, our passion, the courage and determination that distinguish us, as well as the continuous growth and innovation that allow us to face challenging contexts, in markets as well as on the track.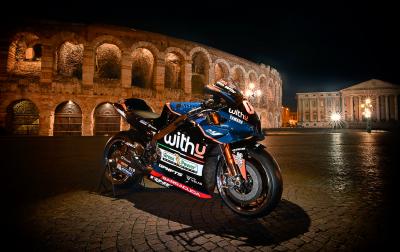 "Dovizioso and Binder represent the essence of this spirit and I am sure that Razlan and the whole WithU Yamaha RNF MotoGP Team will be able to manage and bring these two riders to the goals they deserve and to which we are all aiming. Thereby, we are not only present in the MotoGP class, but also in the MotoE with our own bike and a dedicated team, with Niccolò Canepa and Bradley Smith as riders. We are really excited for this new season; on one hand, with WithU we aim for a year full of news and new services to become a real service marketplace and simplify our customers' lives even more, on the other hand, even with our team on the track we want to be motivated and innovative, to face this season and achieve all the goals we have set ourselves."
Wilco Zeelenberg, Team Manager WithU Yamaha RNF MotoGP Racing Team: "I'm very excited to start the 2022 season with a new chapter for the whole group. We closed the old one, but closing chapters always means opening new episodes and to start this new project with the RNF team is of course again a huge challenge. A big part of the group remained, some people of the crew, especially on the side of Darryn, are also new. We've got a new crew chief, a new data engineer and new mechanics. We have new material, a new hospitality, new trailers, so we will replace a lot, but at the same time, a lot will remain. We've got two new riders, one experienced rider with Andrea and a rookie with Darryn, which is something we have been doing before, but each season is a new challenge. Yet, we are looking forward to it. The bike looks very nice, although we know it's not just about the glance. We've created a nice balance with colors and we can't wait to start the 2022 season!"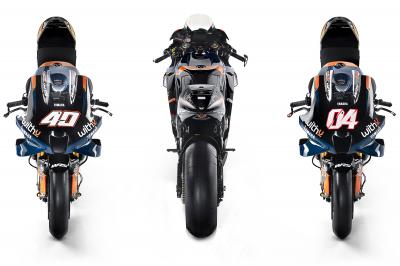 Andrea Dovizioso: "I'm really ready for this season! I'm training a lot in the gym, on my Motocross bike. I removed the plate on my collarbone early December in order to feel better for this year. Everything is going well. I'm so happy to start this full season after five races of testing last year, which was very important to start early with the Yamaha, which is different to what I used the last eight seasons. I'm convinced that this will help me a lot to approach the tests and the races in 2022 in a better way. I know more about the bike, about the engineers and the team in general. The new colors are adding to the amazing overall picture and I'm looking forward to the test in Malaysia. The last two years we couldn't ride there, so I'm really happy to go to Sepang."
Darryn Binder: "The colors of my new bike are just beautiful! Once you see the design and how everything is going to look like for the season, it just makes you so excited to get out and actually ride with the new livery and then you know the 2022 season is officially starting once the team launch has happened. I definitely can't wait! It's going to be so awesome, I'm very, very excited for my first season in MotoGP! Our goal is just to take it step by step. Obviously, it's a big jump from Moto3 to MotoGP and I only want to take it gradually and build up as high as I can. I don't want to do anything too crazy, but rather take one step at a time and go up slowly, but surely. I'm really excited, now I can't wait for the Sepang test to get everything going!"
Filippo Conti, Team Manager WithU GRT RNF MotoE Team: "We couldn't have a better scenario to release our MotoE bikes! The presentation was amazing as the bikes and we cannot wait to begin a new journey in a really competitive and growing championship. Our whole crew is fully addicted to it and ready to fight for ambitious results having as well two high-level riders with Bradley and Niccolo. We're convinced that the partnership between WithU, RNF and us will bring out a lot of good things throughout the season as we already shared good moments. We are just impatiently waiting now to see these beautiful bikes on track for the first tests and for the first race of the season!"
Niccolo Canepa: "I'm super excited to come back to MotoE after missing the last season, and I'm even more excited to race in the WithU GRT RNF MotoE team! The FIM Enel MotoE World Cup is a championship that is growing and I'm proud to be a part of this. The bike livery is really special and I can't wait to ride this beauty soon!"
Bradley Smith: "I'm excited to be back in MotoE and excited to be back in the MotoGP paddock after an unexpected year off. It feels nice to be back with the same team – although with a little bit different structure – I raced for, to some great results in 2019. I would obviously go one step better this year after getting the silver medal. I've watched the championship closely the last couple of years. As always, the championship remains very competitive. I'm thrilled for the new format this season, the fact that the Qualifying is a little bit more normal and there is 14 races, which gives us a longer championship and more opportunities. There are plenty of different tracks that I'm excited to race; for example Mugello and also Finland. So, let's get started."
Every practice session, qualifying battle and race, exclusive interviews, historic races and so much more fantastic content: this is
VideoPass!