Zarco out to end unwanted MotoGP™ record
Have a delve into 10 statistics that have emerged from a sensational qualifying session at the British GP
No less than eight riders lapped under Marc Marquez's (Repsol Honda Team) old Silverstone lap record in qualifying at the Monster Energy British Grand Prix, but it was Johann Zarco (Prima Pramac Racing) who took pole position thanks to his breathtaking 1:57.767.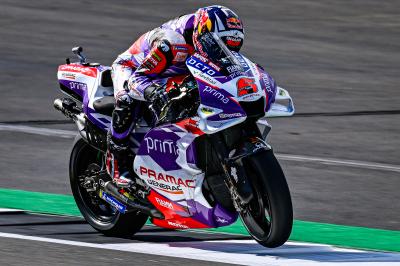 Ahead of race day at the British GP, to get the juices flowing, why not delve into 10 statistics that have surfaced from Saturday's action:
1. Zarco has qualified on pole position for the second time so far this year, along with Portugal, and the eighth time in MotoGP™. He extends his run as the rider with the most poles without taking victory in the premier class, so he'll be out to end that record on Sunday.
2. Marc Marquez (2014) is the last rider to go on and win the race after qualifying on pole at Silverstone.
3. Maverick Viñales (Aprilia Racing) has qualified second for his first front row since he joined Aprilia and his first front row since Assen last year when he was on pole position riding a Yamaha. He finished that race in second place.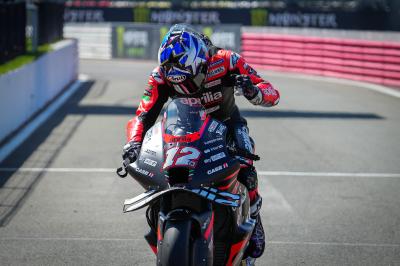 4. Jack Miller (Ducati Lenovo Team) has qualified third for his third front row start this season along with Americas (when he finished P3) and France (when he finished P2). He will be aiming to win for the first time since last year's French GP.
5. Championship leader and winner last year at Silverstone, Fabio Quartararo (Monster Energy Yamaha MotoGP™), has qualified fourth. This is the first time he's failed to qualify on the front row since the Italian GP, when he finished P2 from sixth on the grid. The Frenchman faces a Long Lap penalty in the race.
6. Francesco Bagnaia (Ducati Lenovo Team) has qualified fifth, which is the sixth time so far this season he has failed to qualify inside the top three. He will be aiming to take back-to-back MotoGP™ wins for the first time since the Algarve and Valencia GPs last year.
7. Aleix Espargaro (Aprilia Racing), who suffered a huge Turn 12 highside in FP4, qualified sixth.  This is the ninth time out of 12 qualifying sessions so far this year he qualified inside the top six and he will be aiming to stand on the podium for the second successive time at Silverstone.
var videoContainer; var modeAnalytics = false; var mode="demand"; var nid="430442"; var livetest= true; var lang = "en"; var messageToWatch = ""; var extendedMode = true; var optionSelected = "0";; var youboraActive = true; var analyticsDBIActive = "true"; var optionMeta="hdn"; var dornaAccount = "dorna"; var broadcaster = "0"; var claims_url = ""; var noRegister = ""; var subscribe = ""; var urlMeta = "";
// var externalbalancing = true; //get value from perms
window['flashvars_430442'] = multilive_url : '', broadcaster : broadcaster, optionMeta : optionMeta, baseURL : base_url + "/", secureURL : "https://secure.motogp.com" + "/", to : "", streamType : mode, uid : uid, nid : nid, optionSelected : optionSelected, url_claims : "", href_claims : location.href, referer : location.href, preroll : "", lang : lang, youboraActive : youboraActive, analyticsDBIActive : analyticsDBIActive, dornaAccount : dornaAccount, autoplay : false, alternative : false, skinName : 'motogp' ;
var params = menu: "false", wmode:"opaque", allowfullscreen: "true", bgcolor: "#000", allowscriptaccess: "always" ;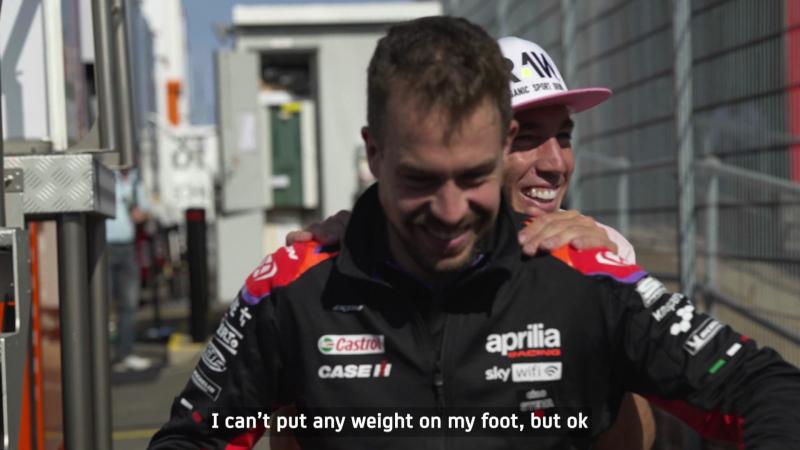 WATCH: Battered & bruised A. Espargaro exits Clinica Mobile 06/08/2022
8. After coming through Q1, Marco Bezzecchi (Mooney VR46 Racing Team) has qualified seventh, which is the fifth time in his rookie season he has qualified on the front three rows. He will be aiming for his first back-to-back MotoGP™ podiums.
9. Enea Bastianini (Gresini Racing MotoGP™), who also progressed through Q1, has qualified eighth for his best qualifying result since he was fifth earlier this year in France on his way to taking his most recent win, as well as his most recent podium.
10. Jorge Martin (Prima Pramac Racing), who crashed out on the opening lap last year at Silverstone after a coming together with Marc Marquez, has qualified ninth for his worst qualifying since Italy this year when he qualified 11th. He will be aiming to stand on the podium for the first time since his second place finish at the Catalan GP.